It's on, retirement beckons. The last twelve or so months has brought a different perspective on life for many of us I am sure. So, after careful analysis of finances, as vaccinations were had and restrictions eased, me and my good lady decided the time was right to retire. Neither of us have ruled out ever working again. If we do, it's likely to be rather different 'work,' and significantly different hours. For now, a well-earned break.
As the 'Roadmap out of lockdown' was confirmed, Arthur, our trusty motorhome was once again back on the road. First off in mid-April, was our postponed trip to Howgill Lodge one of the first sites we visited last year as motorhome newbies. As I have previously mentioned, this is a beautifully located site. Set-up on a tiered basis providing all pitches with stunning views across Wharfedale. The staff are friendly and helpful, and it is already one of our favourite sites. From here we made our first trip for many months to a pub. What better place we thought, than the Red Lion at Burnsall. A firm favourite of ours and the venue we chose for our wedding four years ago. With only outdoor dining available, we packed several layers of clothing and had fingers firmly crossed. On the day we were blessed with wonderful weather and enjoyed a glorious few hours. A pint of Timothy Taylor Boltmaker, sat in the sunshine, with a beautiful view of the river Wharfe and the fells of the Yorkshire Dales, is a pretty good Saturday afternoon in my book.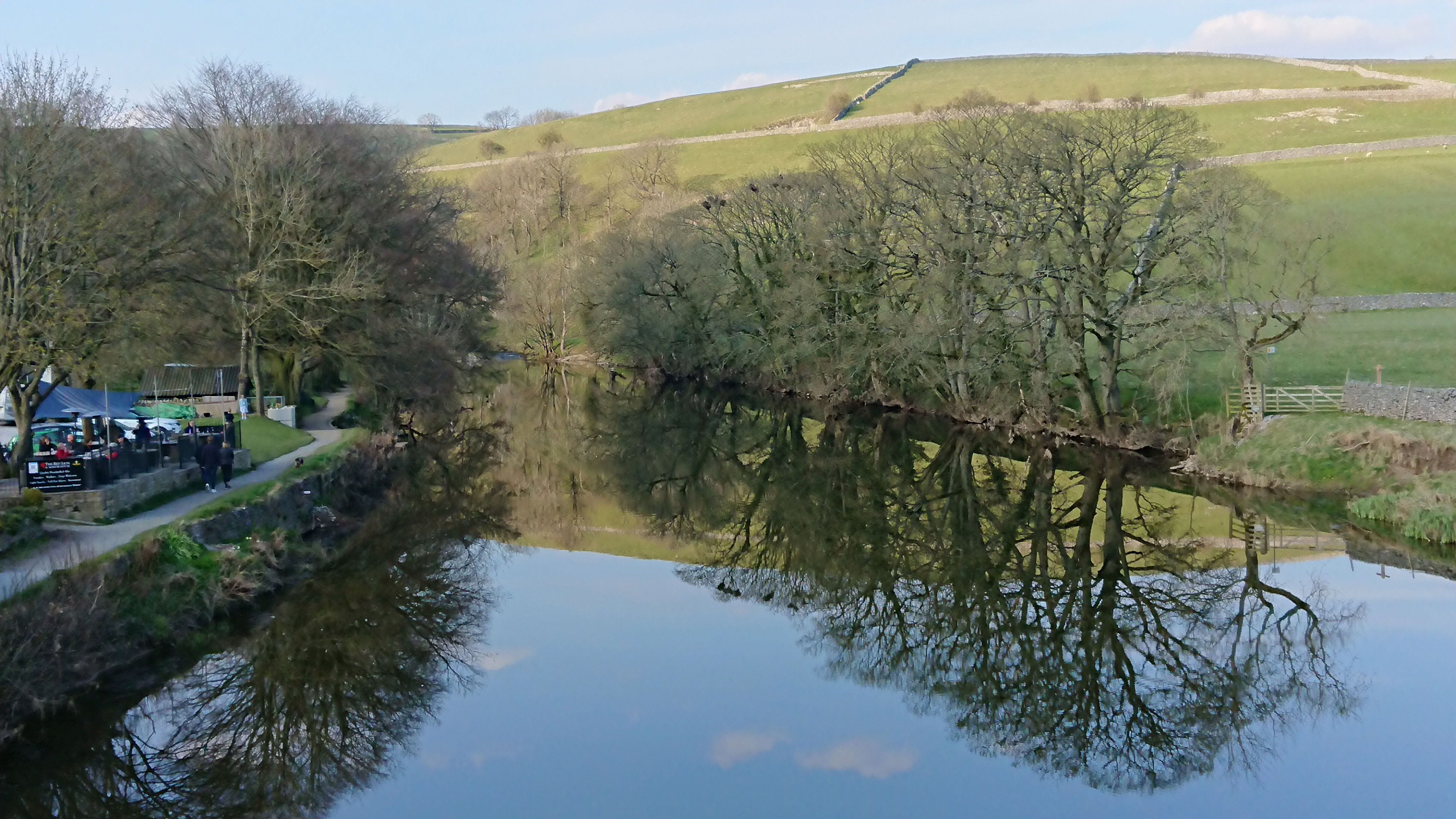 Next day we enjoyed a short but stunning stroll along the riverside to picturesque Appletreewick where were we wined (OK, beered) and dined at another favourite pub of ours The New Inn. Joined by a couple of old friends and again enjoying some lovely weather for April, this proved another excellent day.

New Destination and New Working

A week later we crossed over the border into the red rose county to visit a new destination to us, Bridge Holme Caravan Site in Barnoldswick, or Barlick a the locals call it. Bridge Holme is a small and inexpensive site in a lovely location. Even better, it is ideal for walks or cycle rides along the Leeds Liverpool canal. We chose the latter and enjoyed the incredibly scenic eight mile ride to Gargrave. As well as beautiful tree-lined canal paths, barges and locks, there was a superb section of wildlife to see. Once in Gargrave we enjoyed the cycling compulsory coffee and cake, compliments of a barge-cafe.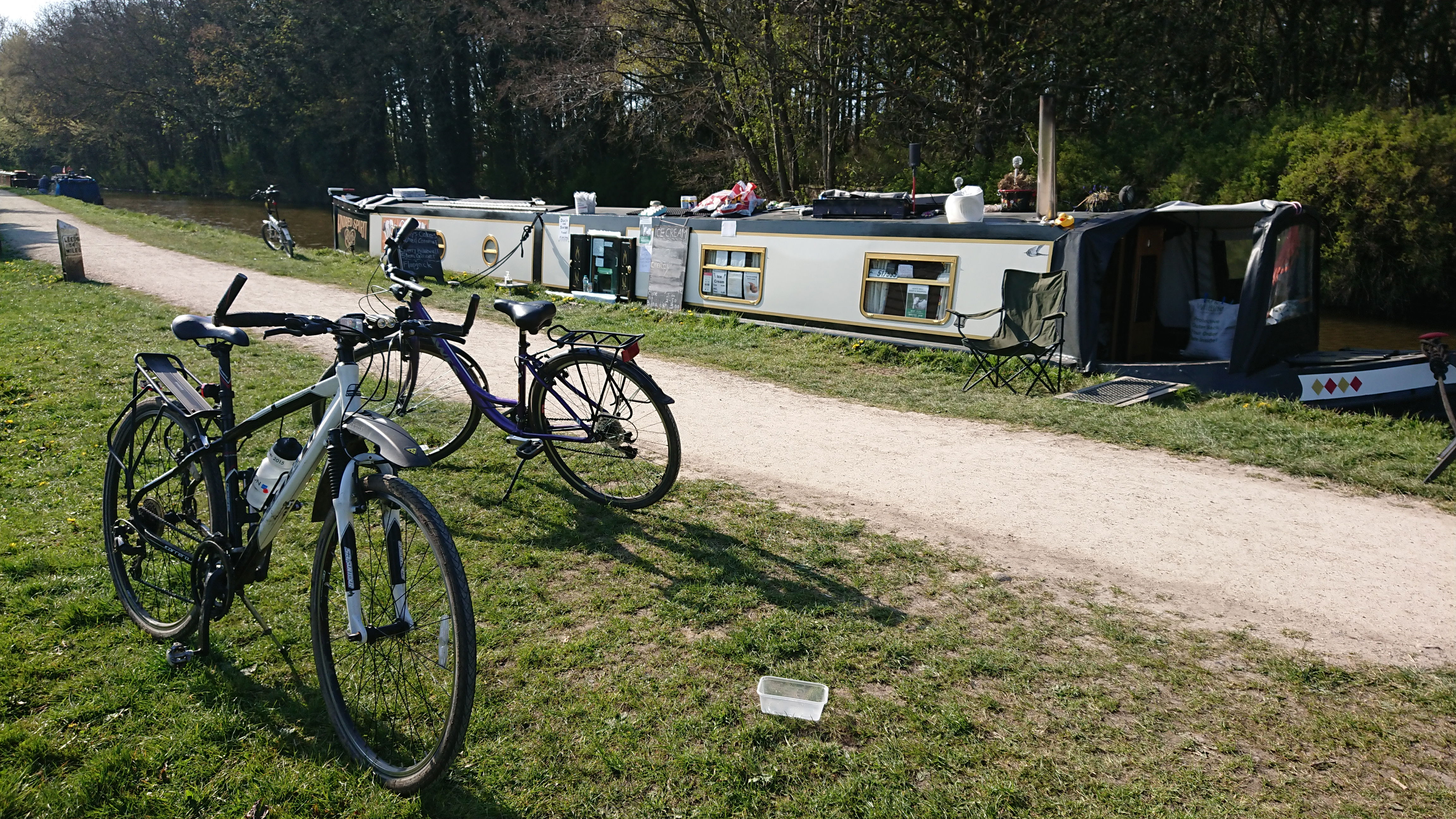 Our next trip was into the Lake District to another site we visited last year, Burns Farm near Threlkeld in St Johns-in-the-Vale. This provided the opportunity to upgrade WFH to WFMH. We picked Burns Farm knowing from our previous visit, the site provides excellent Wi-Fi. This allowed me to join our morning Teams call without hitch and phone calls as usual. This thanks to the flexible working introduced by my employer CCS Media, with amazing foresight two years ago. Working space has to be managed carefully in such a situation. We are lucky having the option to partition off the cab of Arthur. Working in the cab is only viable short term, comfort wise, but ideal when more privacy required. A lunch stroll and after work hike in such surroundings is fantastic.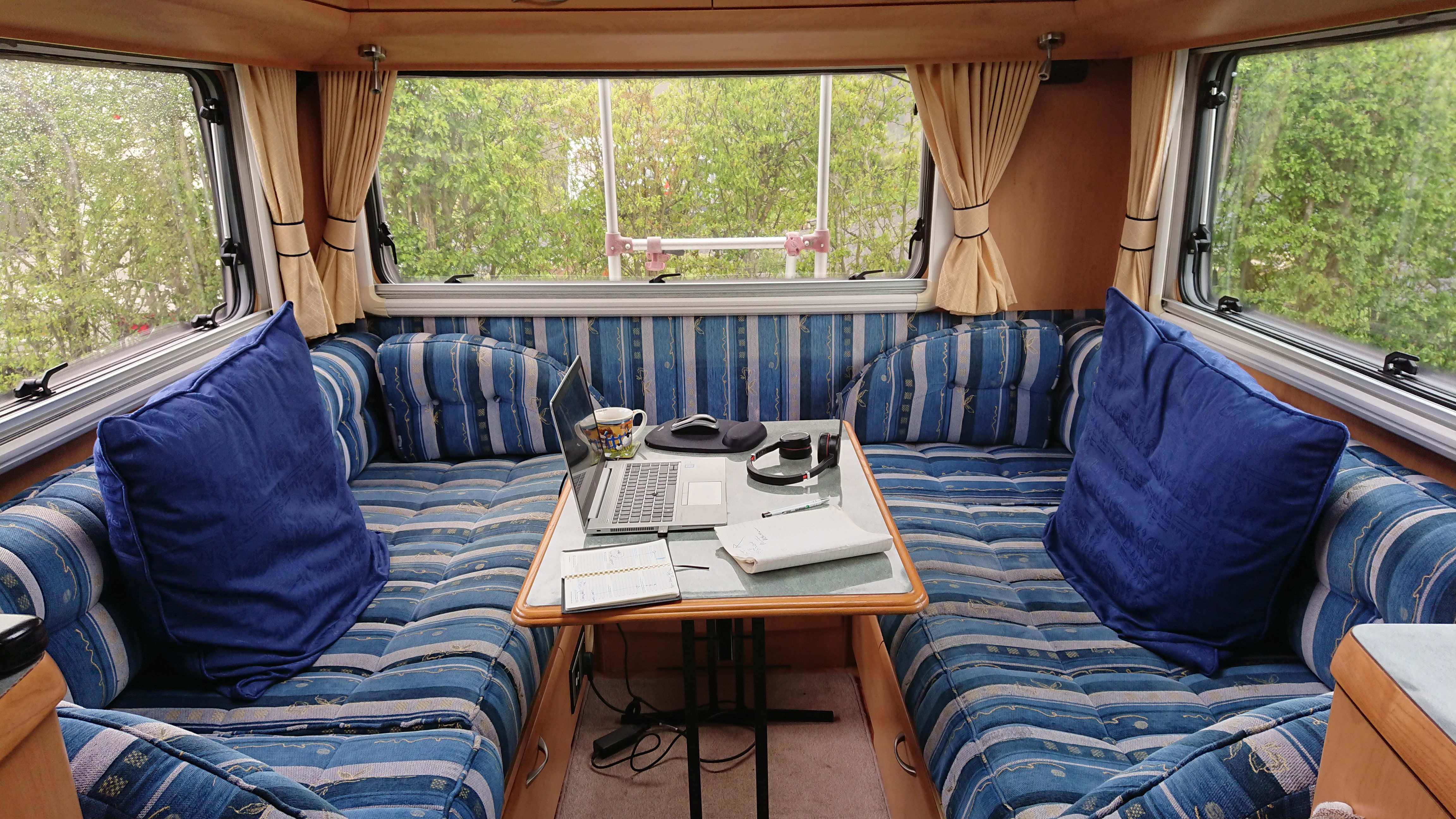 WFMH would be a great option for the future, if we weren't packing in work anyway. (Did I mention we're retiring?) It also provides great flexibility for any future work plans.
A week later and we were off again! Again another site we visited last year, in fact our very first outing with Arthur, Golden Square Park in Helmsley. This year we chose it for our first trip with our four-year-old granddaughter. One of the few negatives of Arthur, is that he only has two belted-seats. A sacrifice we weighed up to obtain they flexible layout we enjoy. Golden Square is ideal being about ninety minutes away so not too far to take Arthur and the accompanying car required for three to travel. Also it has some great children's play areas. Swings, roundabouts, various climbing frames and a superb rope slide were all loved by our no-fear granddaughter.
Racking up five trips in six weeks (phew!) was a trip to North Somerset for a wedding anniversary get together. This was a threshold weekend, being the first in Step 3 of Roadmap out of lockdown, meaning that gatherings of up to thirty people were permitted (woo-hoo!) In years to come I suspect it will be difficult to explain the joy and elation people experienced after our lockdown restrictions. Not long after we set off on our journey south, the traffic on the M1 started building and we came to a momentarily halt. Another motorhome pulled up on our inside, his window down.
'Going anywhere nice?'
'Yes, Somerset, to meet some old friends. You?'
'We're off to Spain!' The smile on his face as wide as his windscreen. 'Ninety days!'
I had heard on the news just that Friday morning, that Spain had announced its borders were open to tourists from the Monday. Presumably packed and waiting and had booked that morning. The joy on his face was brilliant to see.

Roving Retirement

As for our plans? We start with a three week stay in June/July in the New Forest. Having many friends and family in the area we have plans a plenty for meeting up, including a trip to the Isle of Wight, by bike, not Motorhome. How much?! Then we shall meander on, in the general direction of home. We'll be home mid-July before another trip to Howgill Lodge. We plan on spending August at home before departing again in September. Where? Well depending on circumstances, it could be exploring the Lake District further, I would love to see more of Scotland and I have promised a customer and friend a trip to Ireland. Then again, we may just take leaf from our friend on the M1's book and head for sunnier climes. Watch this space.