We have done it! We are now mobile and independent, holiday wise at least. Having just about got our heads around the myriad of campervan and motorhomes available, we were fortunate to hear some friends had decided after five years of 'moho' ownership it was time for a change. Furnished with many details and a video look round it certainly seemed to tick a lot of boxes, so off to Hampshire for the weekend we went.
The layout was perfect, a lounge area of two long couches allowing us both to stretch out, whilst also being a great dining area with the fold-out yet robust dining table. The couches convert into a super king size bed using the full width of the vehicle. Large windows on both sides and at the rear give it a lovely airy feel. Lockers with smart wooden doors provide loads of storage, and look good too. A four ring gas cooker plus oven and fridge freezer are smartly fitted it in.
Being back in my wife's old stomping ground allowed for a test ride round to some other friends, who being seasoned moho owners, confirmed our thoughts, it's a good un!
Hiccup number one came when we realised our plan to store it on the drive at home was never going to happen, maybe too wide, definitely too long. And the insurance we had tentatively arranged was only available with, you guessed it, overnight parking on the drive. After a night to consider our potential new life style and alternative insurance arranged we returned to our friends to tell them they had a deal.
Payment agreed and insurance confirmed, we headed home. Now I don't drive a small car, but driving something 2.2 metres wide rather than 1.7 metres takes a bit of getting used to, reversing something 7 metres long certainly has it challenges. Fortunately our journey from Hampshire to West Yorkshire is one we have made many times. With the majority of the route on motorways and major A roads, it was an ideal way to get used to driving our new acquisition. As the journey progressed, confidence grew and my smile got wider.
Riding the Learning Curve
Two short weeks later, Arthur, as we had christened our new friend, made his maiden voyage. Our chosen destination was Oswaldkirk, North Yorkshire. Being just over an hour away and recommended by another friend, Golden Square Caravan Park proved to be a great choice. When our friends initially showed us around our new purchase, Gertude had a super idea, 'I'll show Heather around the inside, Fred can show Tony around the outside, video as you go along, so you have a record.' Super idea indeed. Heather took a nice twenty minute video of the floor, I thought 'I don't need a video, I'll remember this, there's not much.' WHAT! God knows where that thought came from, I forget why I have gone upstairs half of the time. Fortunately our friends (I think they are still friends) were only a WhatsApp away and we met some lovely helpful people, staff and customers, at Golden Park.
A typical arrival process includes; locate your allocated pitch, park up, use ramps if pitch not level, lower legs for stability, plug in for power, fill up with water, turn on the gas, wind-out the awning and peg down the supports, put the kettle on/open the beer. Easy when you know how. A fairly obvious consideration is where is the water fill-up point. Some are at various communal points, some managed pitches have individual points. At Golden Square the shared point was just in front of our pitch, great. So, wind down the legs, wind out the awning and peg the supports. Take the hose and fill-up. Except, it does not quite reach! So un-peg the awning legs, wind in the awning, wind up the legs, drive forward three feet and fill up. First lesson learned!
Settled in, cooker sussed, we made ourselves at home. Making the bed proved pretty straightforward and very comfortable.
The park is in a lovely location. On the Saturday we joined our friend Lynne and Tilley the dog on a lovely, if rather damp walk through the nearby woods. The park is quite large but superbly set-up in different sections and different levels cleverly giving you the feel thatyou are in a much smaller site. There are also a couple of children's play areas helping us to earmark Golden Square as a great site to bring our granddaughter. One drawback of Arthur is that to enjoy the layout we have, means it only has two seat belts. We did wonder if the little-one would like the idea of motor-homing and how often we would have the opportunity to use it, hence our eventual choice. The week after our acquisition we had the opportunity to introduce her to Arthur, she loved him! Making up a bed, in the vehicle, was so cool. She also loved the high vantage point the passenger seat provides. So it looks like weekends at nearby camper parks with a car following the moho is required, another plus of Golden Park.
After a lovely walk on a sunny Sunday to the nearby beautiful village of Ampleforth we headed home. Lots of lessons learned and with the confidence now to plan a longer trip away.
Motor Home - Holiday Home
We had already booked a week off work and tentatively booked two sites ready to head off prior to Oswaldkirk. Having waited a couple of days on our return for the forthcoming Government announcements regarding regional (lockdown) travel restrictions, we ascertained we were still good to go and quickly completed our research and booked our third site. Nine night holiday here we come!
Finishing work on the Friday we hastily finished packing (minimum clothes, maximum provisions) and once more headed North, our destination, Barden in the Yorkshire Dales. Situated just over an hour away, between Bolton Abbey and Burnsall, Howgill Lodge is another potential superb weekend getaway. On this occasion it was the perfect start our holiday.
This part of the Yorkshire Dales being one of our favourites locations, I have driven the road from Bolton Abbey to Burnsall many times. This beautiful scenic route is able for the Archway across the road by the Priory. As well as being picturesque it does restrict certain vehicles from passing. Checking with out hosts prior to travelling we were assured buses and lorries regularly pass through. As I approached, I was certainly glad I had checked, I still breathed in as we passed through.
Howgill is another superbly designed site. It is multi-tiered so everyone has a great view of beautiful rolling hills across the valley. Its remote location provides a wonderfully quiet setting and is a great base for walking. For hill and fell walkers the peak of Simon's Seat is less than an hour's walk/climb away. A more tranquil walk is the cross field path to Skyreholme, or to be accurate; Higher Skyreholme, Middle Skyreholme and, you guessed it, Lower Skyreholme. An amazing scenic selection of fields, forests, streams, beautiful cottages and local wildlife within a three mile loop. We got a superb display of sheep herding for extra value too.
Another welcome bonus was some October late afternoon sunshine, providing an opportunity to enjoy a relaxing beer sat outside by the conveniently provided picnic table enjoying a view I never tire of.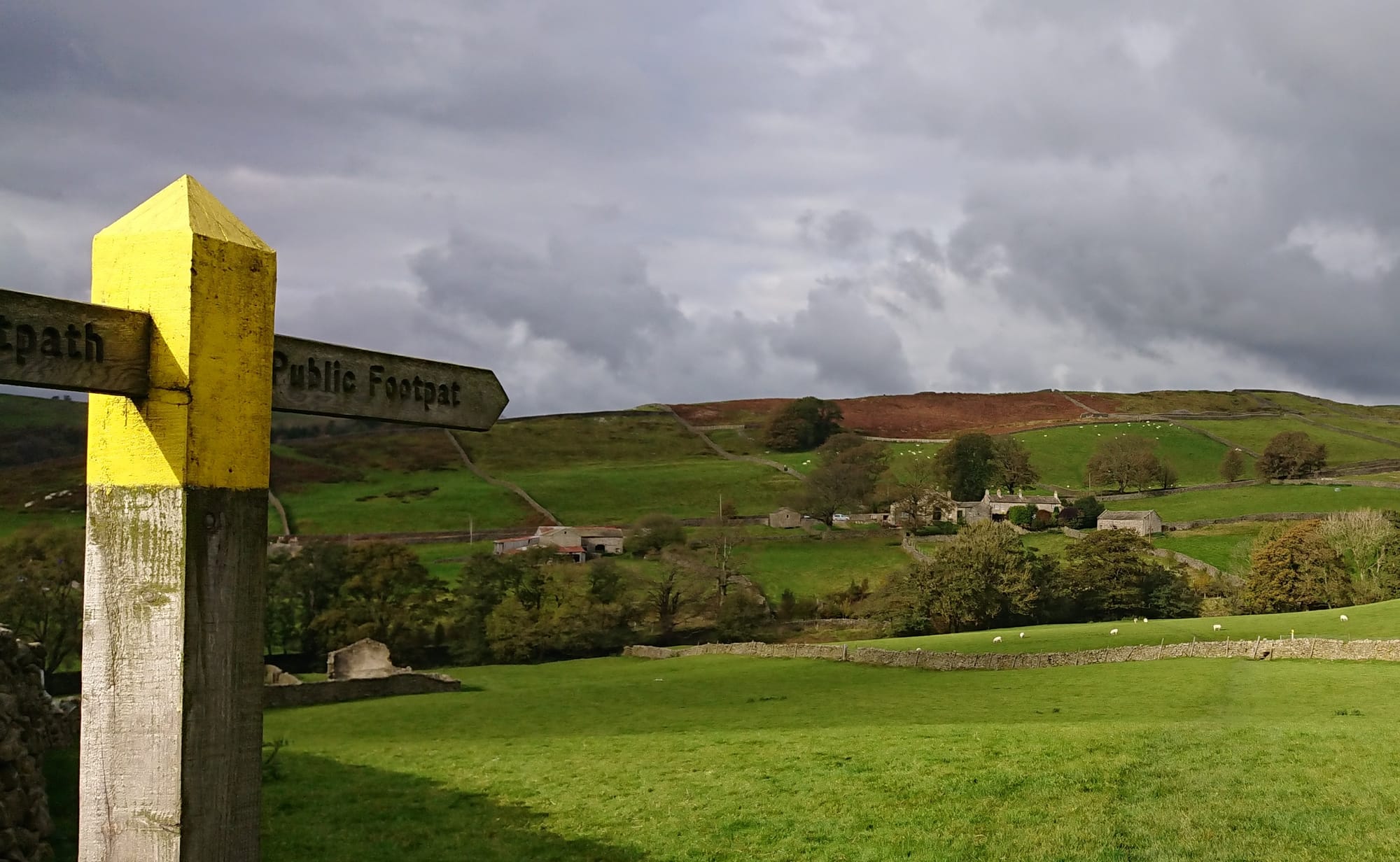 Footpath to Skyreholme
Going North
Next morning we negotiated the narrow lanes of Barden and oncoming traffic and back through the Bolton Priory arch we hit the A65 and headed North.
Lovers and frequent visitors of The Dales in recent years, we were aware though that another beautiful National Park was also a short drive away, The Lake District. Not that we haven't been, but we knew there was a lot more to explore and enjoy.
Fortunately, discussing our recent moho purchase and travel plans with a good customer based in said National Park, he very quickly recommended Sykeside Camping Park. What a superb site. Located at the foot of the spectacular Kirkstone Pass surrounded by majestic fells, it truly is an inspiring location.
So, one night I am sat reading and looking over the hills of Wharfe Valley. Next night I am sat listening to Black Sabbath play Spiral Architect, looking at the mist topped fells of Dove Crag and Hart Crag drinking one of those cups of tea that will be long remembered.
As the wind and rain made its presence known, we felt pretty warm and content watching our DVD. Tonight's show, The Cider House Rules. Well worth a watch.
As the weather abated, slightly, next morning we set-off for a walk in our spectacular surroundings. We headed north to the nearby Brothers Water. One of the districts smaller lakes, but no less picturesque. A wonderful tree-lined walk with amazing views across the lake of beautiful fells, a walk enhanced this day with the gold and brown of fallen leaves. I am not the only who likes Brothers Water. Back in 1802, so the story goes, Dorothy Wordsworth when walking here with her famous brother, apparently commented.
'..the boughs of the bare old trees, the simplicity of the mountains, and the exquisite beauty of the path...the gentle flowing of the stream, the glittering, lively lake, green fields without a living creature to be seen on them.' Very well put Dorothy, although we saw loads of sheep!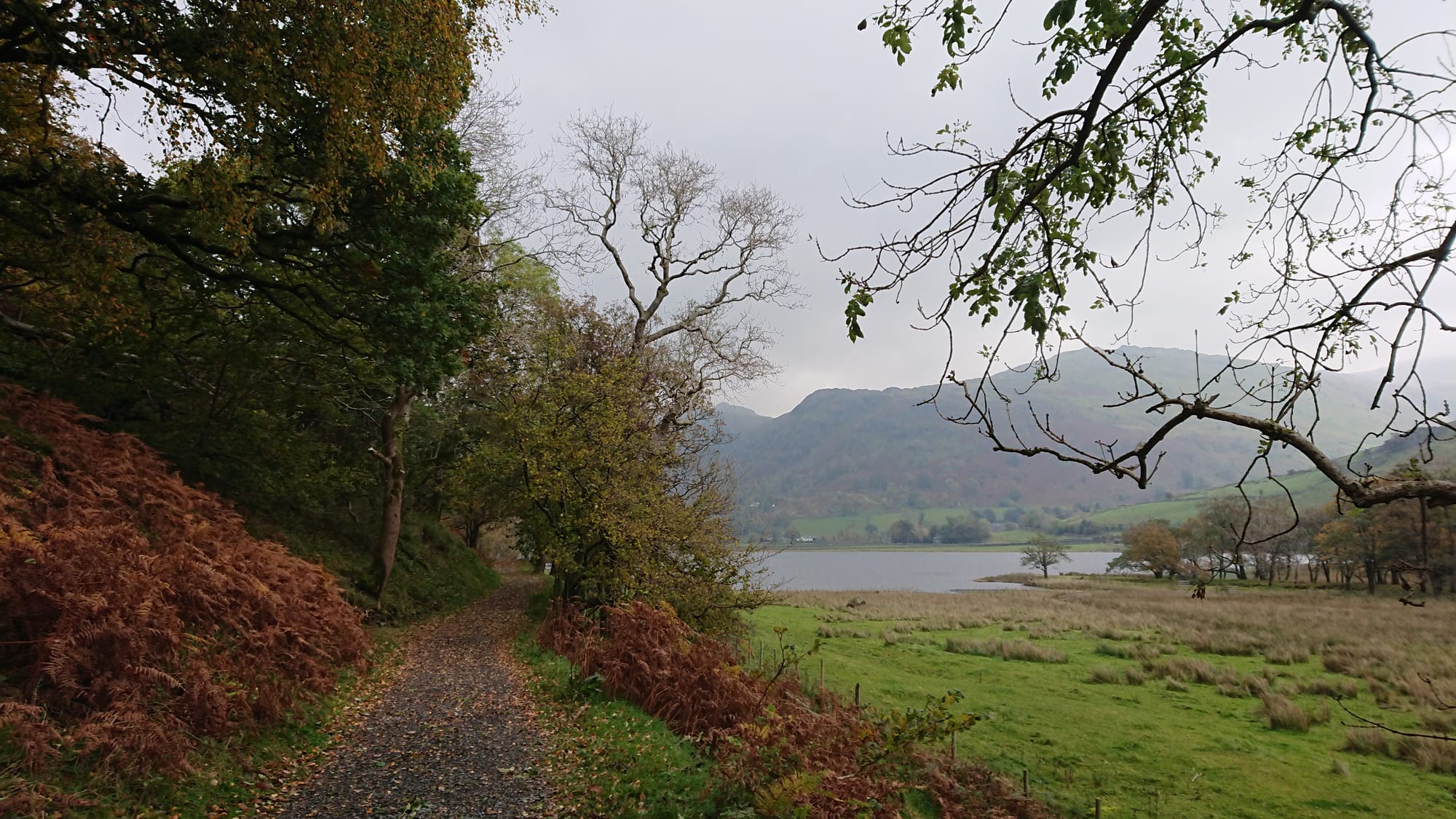 Brothers Water
We walked on towards Patterdale and back alongside the wonderfully named Goldrill Beck, a quite stunning walk. In fact I was so taken with it I felt compelled to return. I quickly changed and took my bike for a couple of laps around the lake, a very good day out.
Next day we walked north-west along the Dovedale Valley and a chance to experience the stunning scenery we had been viewing from the site at close quarters. We were not disappointed. The undulating path wound its way towards Hart Crag. Magnificent trees and wide streams enhancing views across wide lush fields to the imposing fells. As we climbed the Crag we saw a number of small waterfalls. Have flask, have coffee with a view, and what a view! Looking back across the valley back to the site, dwarfed by its surroundings, Sykeside really is in a location that will take some beating. The almost total lack of phone coverage only adds to the wonderful remote magic. Great facilities and nice people ensure we will return.
After three very enjoyable nights we headed off for the third and final destination of our holiday.
And there's more
Heading north from here it's difficult to find a road without a view to inspire descriptions of grandeur. Our route took us through Patterdale and on to the southern end of Ullswater. A coffee stop treat at the Inn on the Lake in Glenridding gave us a brief chance to see how the other half live, then as the rain stopped and clouds gave way to blue sky we wandered into the garden to enjoy some of the best views of the lake around.
Back on our way we marvelled as the A592 hugs the shore of Ullswater before almost reluctantly turning off for the road to Troutbeck. A short while later we arrived at our destination, Burns Farm, St Johns-in-the-Vale. Although close to the A66 the major road in the area, Burns Farm is yet another fantastic location. Pitches are well spaced out with trees and hedges separating the two main fields. Our view to the north was another of mountainous beauty, dominated by Blencathra Fell.
Throughout the week we continued on our moho learning curve, today's clarification being, not all tap adapters are equal.
The lashing wind and rain of the next day was not necessarily a deterrent to walking, but it did seem an opportune day to make the short trip to Keswick. This provided a chance to:
A. Expand our tap connector collection.
B. Visit some of the plethora of Keswick's 'Outdoor' shops to improve our clothing collections.
C. Stock up on food supplies.
D. Practice negotiating around town centres and parking.
Mission accomplished.
One difference Burns Farm has from our earlier sites is great phone and WiFi coverage. The WiFi is so good in fact, that evening I was able to stream Leeds United's rather impressive performance against Aston Villa. I watched on my laptop with headphones so as not to disturb Heather. A reminder of moho personal space limitations came after a very entertaining end to end first half against the previously unbeaten Villa. Early in the second half Patrick Bamford broke the deadlock and I let out a whoop of delight, much to the shock of my wife. Sorry but not sorry. Twelve minutes later when Bamford hit the top corner I shouted even louder and Heather jumped even higher. Fortunately when the third went in I managed to restrain myself to a grin of delight.
Next morning the weather gradually improved from constant rain to sporadic rain and it was time to explore. The valley of St Johns-in-the-Vale is an idyllic part of the Lake District. I would love to return with my road bike and experience the hills of the locality. It is also a great place to walk. The roads are quiet (in October anyway) and there are a number of great signposted public footpaths on beautiful 'off road' routes. The quaint church of St Johns-in-the-Vale is two miles away and nearby is a wonderful bridleway leading through glorious woods before opening up to take you along the bases of Low Rigg and High Rigg with majestic views across the valley of the larger fells of Clough Head, Calfhow Pike and Great Dodd. The view this afternoon enhanced with the welcome return at last of blue sky.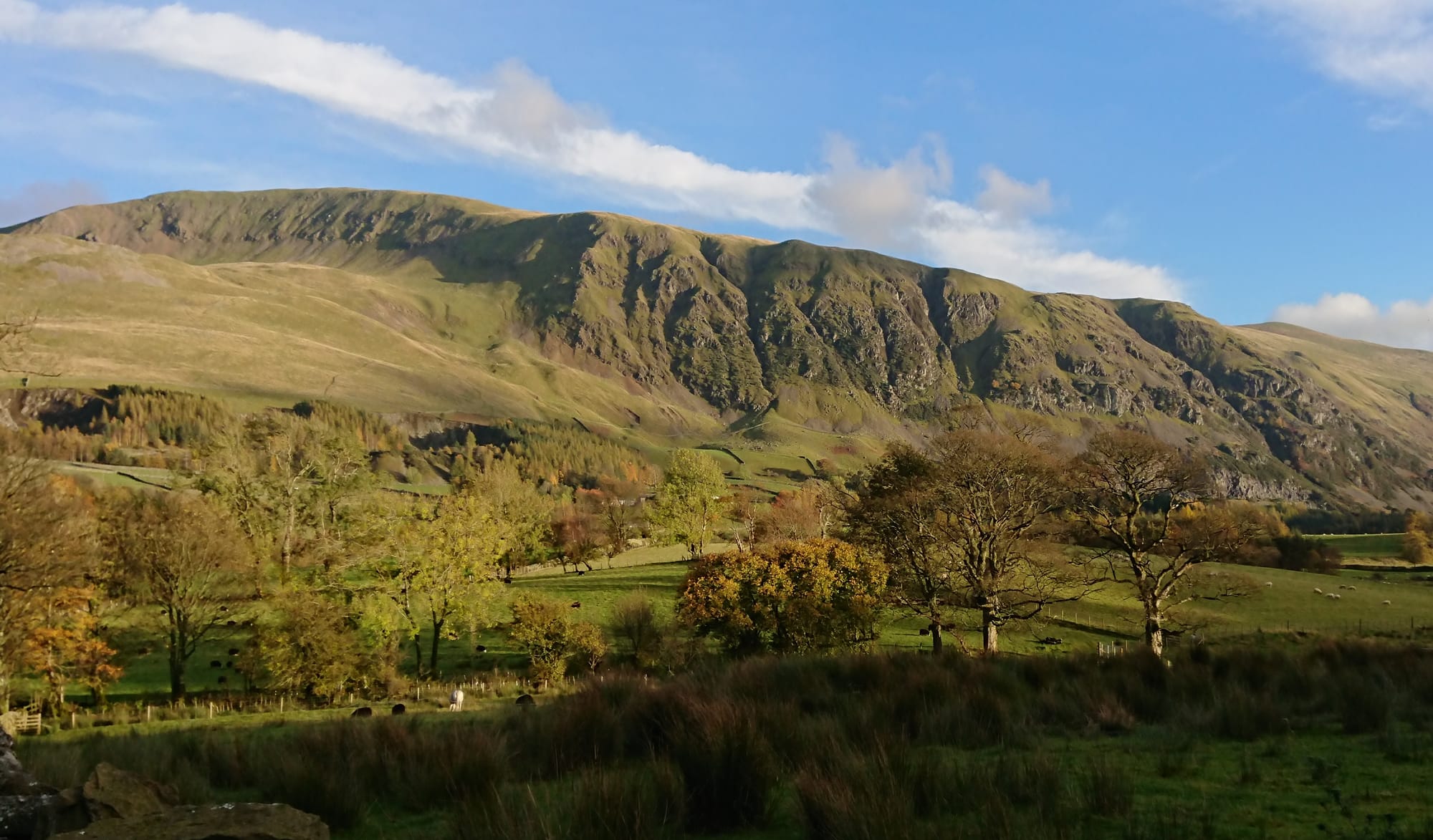 St Johns-in-the-Vale
The A591 between Keswick and Windermere has been voted several times as 'Britain's Best Drive.' Homeward-bound we quickly saw why, as this spectacular winding twenty-two mile section of our journey takes in no less than five lakes and 'unmatchable views of Lakeland fells.' A great part of our final days holiday.
Back home we reflected on our first moho holiday. More lessons learned, three sites we would definitely return to, stunning scenery and places we know we can and want to explore further. A thoroughly enjoyable time we agreed. As the imminent indication and then confirmation of Lockdown 2.0 soon followed we are more than ever convinced our future holiday plans will include our friend Arthur.